Yep it is true.
Many who know us already know this, but we love animals, dogs in particular. Especially my husband, I have never seen someone who loves animals so much. So naturally, after we bought our house we invested in our first furbaby, Niles. (Yes, his name is after the show Frasier, Chris LOVES that show.)
I know...cutest puppy ever, right? We got him at 6 weeks old, he was so tiny!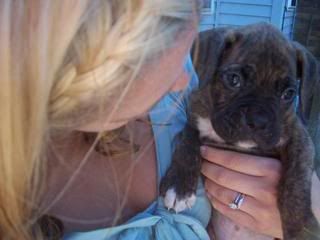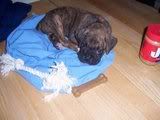 He has not been what I call a cheap investment, but it has been worth it. I have never seen an animal love two people more unconditionally. Even if we are mad at him, he forgets about it and still loves us the same. But yeah, the first couple years are rough. Between the vet visits for vaccines, and the neutering, and the heart worm meds and food and toys...wowza.
Totally worth it though. Not to mention he listens very well, and we can trust him. He is a great dog. Boxers are great dogs in genenal as they are incredibly smart, and good with children, which was a MUST for me. I love the fact that I can put my hand in his mouth, play with his face and do whatever else...and know that he would never bite me.
Well a couple weeks ago an aquaintence of mine casually asked me if we knew anyone who would want a boxer, or if we would want another. I was like uhh...maybe? We had toyed around the idea of getting another so that Niles would have a little friend to play with. We decided we would go and have a look at him and see if him and Niles would get along. Of course they played like crazy and we thought he was a really nice dog. We agreed that that weekend he could come and stay with us and we would see how it would go. Needless to say, he has been with us ever since. I felt bad for the family that had to give him away, but all they cared about was that he went to a great home. And the best part was that they gave us everything... EVERYTHING for
FREE
! They gave us the dog, his huge crate, his bed and toys, food, rawhides, bones...everything. We just couldn't pass this up, and we felt bad for him.
So...introducing...Siggy! (Chris wanted to change his name to Frasier..haha...I'm like seriously? We cannot do that to a two year old dog. That is just mean.) And yes, he is giving you the side-eye.
If I thought Niles was lovable...I was sooo incredibly wrong. Niles is more the type of dog that wants to play 24/7. Siggy on the other hang...he just wants your lovin. He would be totally content to just sit by you and let you pet him all day long. He is such a sweetheart.
And the best part is, him and Niles are best buds. It is hilarious. They are so cute!
Yeah, I even caught them snuggling on Nile's bed together. It's official, they are cuddle buddies.
Sooo cute. I love it.